It's time to
Build & Scale
It's my mission to work with dedicated Owners, Entrepreneurs & Visionary Leaders to build the business they want and not the one they have.
Grab a copy of my book and hear the story how we built & scaled our business.
More importantly how I build teams with a unique approach to working with teams across the globe!
 Click Here to Download my NEW Guide –
7 Ways to PowerUp your
LinkedIn Relationships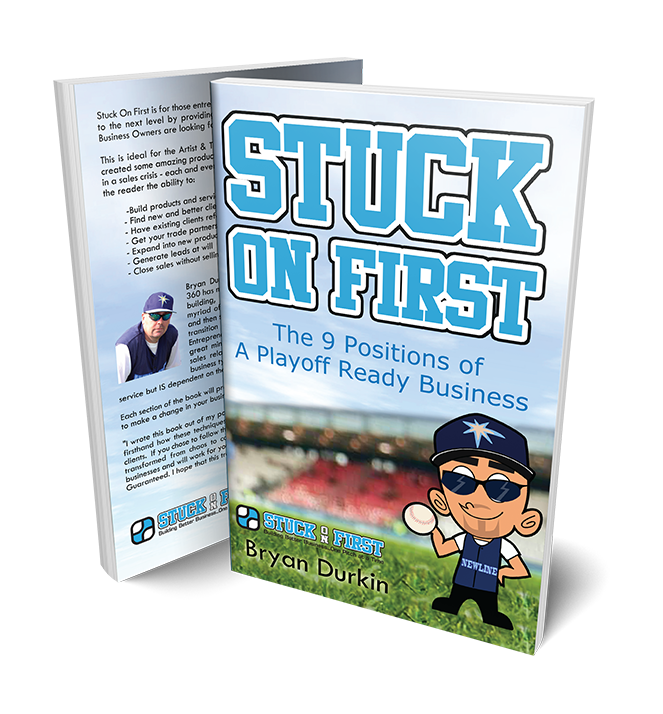 Get My Book
STUCK On FIRST 
The 9 Positions of a Playoff Ready Business
For 30 years I've personally been involved in hundreds of large scale business deals worth hundreds of millions in revenue.
In fact one year my single year highpoint was I producing $32.5 in Enterprise sales.
That same year I started my own business. We grew from 2 employees to a team of 225.
I found the out the secret sauce in 1997 … 
Virtual Teams!
(I have personally been involved in hundreds of projects)
Learn More about our VIRTUAL TEAM Services, TRAINING and Programs 
Private Client  Inner Circle
 Our Inner Circle members work hand in hand with myself & my project team on a select basis. These clients and use Virtual Teams to help them achieve their customer & growth goals by implementing projects like LinkedIn Campaigns, Sales Funnels, Ad management and other growth oriented projects. We guide & share
Done – With – You
 For clients with teams looking for exceptional Expert Lead and Peer group growth.
We cover marketing & sales related topics from personnel to strategy and meetings are in – person and online to make it the most convenient for your business.
Learning – Planning – Masterminding
We have developed several Online Training Products and packaged services that will provide for Inner Circle Members. You take the strategies, tactics and technologies we use for our clients in your business.
LinkedIn for B2B 
LinkedIn for Solopreneur
We offer Keynote and Workshops around the topic of growing your business and the practical application of working with Virtual Teams to help accomplish your growth.
How to effectively use Zoom!
B2B Sales Team Effectiveness & LinkedIn
"Bryan shared a great way to get my book ready and how to use lead magnets for my sustainability software. Looking forward to how they come out."
"Bryan's session filled in a lot of the holes and provided details for me not just on how sales and marketing work but more importantly, how to do it in a way to make me a top performer. I found his personal experience and very specific processes for standing out with prospects to be of tremendous value. I look forward to putting his ideas into practice!"
"What a great concept using 3D Mail Marketing for families looking for school and camp choices for their children. Great examples and I really enjoyed your session."
Van BCharities of Ft Myers
"I recently attended a session by Bryan and as a Team Leader I am going to use the concepts of 'standing out' and message sequences to really be more personal, relevant and standout to my teams around the world. I will use the practical techniques so I can keep our global membership engaged in our critical mission of stamping out hunger."
"Although I'm a long time technical consultant I recently had the chance to be with Bryan for a Tech Meetup where he spoke. I am not a marketer (even though Bryan may disagree) but I really loved his presentation - practical and passionate. Great Job."
Ron GLee County School District
"Since attending Bryan's session I know am going to incorporate a series of follow ups with prospects to make sure that when they buy - they buy from ME! Being in the Graphics business is competitive and now I have an edge on how to stand out."
"I am going to use Bryan's approaches to get more involvment at my meetups and to attract sponsors to make the events more SPECTACULAR."
"I am passionate about the reality in Florida that there are 2 paths to growing amazing plants & fruits - one is a natural approach the other is to use our homes to maintain worthless plants the look kind of nice. I would love to create an ecosystem where we create edible food lanscapes instead of the manicured 'self' beauty that is here today. I'm going to use some ideas on how to execute my passion!"
"We're a full service web and tech based firm with offices worldwide. I am now an advocate for something tangible to have and sending 3d Mail or other items would worthwhile to stay in the potential client's mind (Until they are ready to buy from ME!)"
"Being creative and really be different in my industry is the key and really be out of the box. I enjoyed the presentation but wanted some tech but understand why you framed your information the way you did. Thanks so much for the approach that would work wonders in my business."
We work with clients to open up new markets by helping them define what those markets really look like. Riches and in Niches!
We work with clients to let them understand the power of the global village. Talent once only available to the Fortune 500 is now can work from Entrepreneurs to Owners of
We work with Entrepreneurs & Owners to understand how to let goand focus on results rather than who does the work. We want our clients to build amazing client 
How to just do a bit more than you competition Some people think that they...
the Spray and Pray approach, you're just hoping your ideal customer is there at the exact time with money in hand, just waiting to hire you. Let me just say, the odds are not in your favor and you are expending a lot of energy with little to no return.
I was fortunate enough to be interviewed by Startup Mentor & CEO Raj...
We believe in your business.
You should too.